Concrete Bases
When it comes to erecting your shed on site, our steel units require a concrete slab or base to bolt the shed down on.
By bolting the shed, garage, workshop or other unit to a base ensures that the unit is 100% secure and will never move.
We have included a number of sample bases below. It is not recommended to pour a base unless you have the correct base plan exact measurements for your particular unit. Please contact the sales executive you purchased your Steeltech unit from for a more detailed base plan.
Concrete Base Option for units up to 20′ x 13′ 6″
STEP BY STEP GUIDE TO INSTALLING A PICTURE FRAME CONCRETE BASE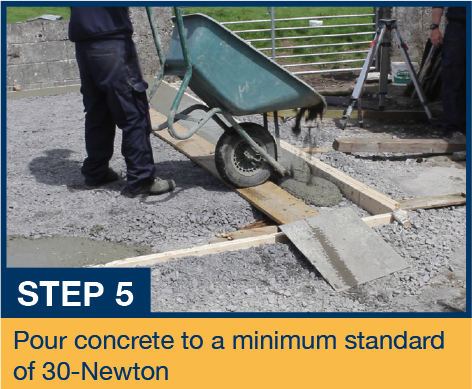 Garages / Workshops
For our garages / workshops, please consult your local sales executive for the correct information before installing your concrete base or slab.
---
PLEASE NOTE FOR ALL ABOVE OPTIONS:
If you are uncertain about concrete work, always use a qualified tradesman.
When installing a concrete base, use a minimum of 30 Newton concrete.
Concrete drying time in dry weather is approx. 3 – 4 days to harden and up to 30 days to fully dry out.